Hotels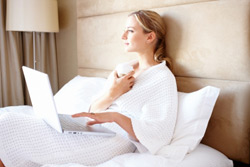 Next to the superb hotel service, wireless internet access is a key factor by which guests today choose the location, and choose to return.
Wireless internet enables easier conference organization, conventions and business meetings. The likeliness of choosing your location for these type of events increases substantially if quality wireless internet access is installed.
Beside attracting guests, with quality wireless internet access you raise the overall service level and guest satisfaction.
Revenue Increase:
- Increase in booking numbers
- You keep the guest at the hotel, which increases consummation.
- Wireless internet access charge, (optional at your discretion)
Staff
Our system allows the staff to have permanent internet access from any part of the hotel.
Signal Coverage
Signal can cover the whole hotel and all adjacent premices within a hotel system: (terraces, beaches, private boat dockings, sport terrains etc…)
Warranty
On all equipment and installation, warranty is one year.
All installations are monitored, and possible problems are remotely solved.
In case that the remote solution of the problem is not possible, our technical staff will fix it on site.
Security
IT Systems wireless.hr are based on HQ open code software.
The system is centralized around the Linux kernel distribution, primarily used in enterprise computer systems.
Contact
wireless.hr
Antunovac 10
10 000 Zagreb, Croatia
Tel: +385 1 3774 743
Fax: +385 1 3778 448
E-mail: [email protected]